Healthy Pregnancy Series - Part 4: Gestational Diabetes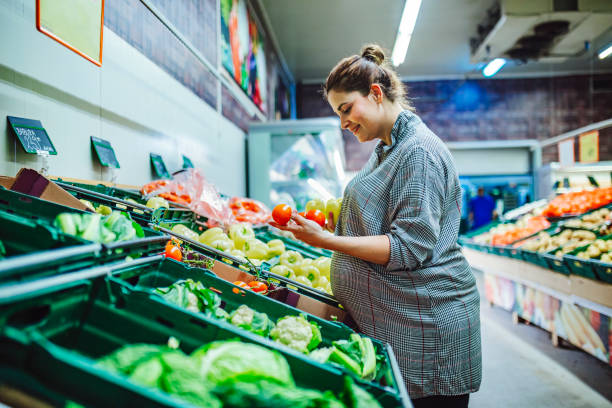 In Europe, Gestational diabetes is significant in pregnant women, around 11%, with the highest prevalence in pregnant women of Eastern European countries (31.5%). (1) If you have been diagnosed with this disease, you know you are not alone. It doesn't mean that you had diabetes before you conceived or that you will have diabetes after you give birth. It means that, by working with your doctor, you can have a healthy pregnancy and a healthy baby.
Gestational diabetes happens when a woman's body can't make enough insulin during pregnancy. Most women with gestational diabetes deliver healthy babies; however, there are risks of future complications.
Gestational diabetes is diabetes diagnosed for the first time during pregnancy (gestation). Like other types of diabetes, gestational diabetes affects how your cells use sugar (glucose). Gestational diabetes causes high blood sugar that can affect your pregnancy and your baby's health.
While any pregnancy complication is concerning, there's good news. Expectant mothers can help control gestational diabetes by eating healthy foods, exercising and, if necessary, taking medication. Controlling blood sugar can keep you and your baby healthy and prevent a difficult delivery.
In women with gestational diabetes, blood sugar usually returns to normal soon after delivery. But if you've had gestational diabetes, you have a higher risk of getting type 2 diabetes. You'll need to be tested for changes in blood sugar more often.
Just like normal diabetes, gestational diabetes can develope cardiovascular damage and can cause excessive weight gain in neonatals. A large percentage of women - about two-thirds of women with gestational diabetes will go on to develop type two diabetes in the following two decades. Long-term risk of stroke and heart disease significantly increase in women with gestational diabetes. In actuality the cardiovascular risk is quite significant. So it is not just about blood sugar. It is about all the other cardiovascular risks, including the modifiable ones. Pregnant women can reduce their risks by maintaining a healthy diet rich in fruit, vegetables and including regular exercise. (2)
Symptoms
For most women, gestational diabetes doesn't cause noticeable signs or symptoms. Increased thirst, more-frequent urination, dry mouth and tiredness are possible symptoms. (3)
When to see a doctor
If possible, seek health care early — when you first think about trying to get pregnant — so your doctor can check your risk of gestational diabetes along with your overall wellness. Once you're pregnant, your doctor will check you for gestational diabetes as part of your prenatal care.
If you develop gestational diabetes, you may need checkups more often. These are most likely to occur during the last three months of pregnancy, when your doctor will monitor your blood sugar level and your baby's health.
Diagnosis
If you're at average risk of gestational diabetes, you'll likely have a screening test during your second trimester — between 24 and 28 weeks of pregnancy.
If you're at high risk of diabetes — for example, if you're overweight or obese before pregnancy or you have a mother, father, sibling or child with diabetes — your doctor may test for diabetes early in pregnancy, likely at your first prenatal visit.
Routine screening for gestational diabetes
Screening tests may vary slightly depending on your health care provider, but generally include:
- Initial glucose challenge test. You'll drink a syrupy glucose solution. One hour later, you'll have a blood test to measure your blood sugar level.*
A blood sugar level of 190 milligrams per deciliter (mg/dL), or 10.6 millimoles per liter (mmol/L) indicates gestational diabetes.
A blood sugar below 140 mg/dL (7.8 mmol/L) is usually considered normal on a glucose challenge test, although this may vary by clinic or lab. If your blood sugar level is higher than normal, you'll need another glucose tolerance test to determine if you have the condition.
- Follow-up glucose tolerance testing. This test is similar to the initial test — except the sweet solution will have even more sugar and your blood sugar will be checked every hour for three hours. If at least two of the blood sugar readings are higher than expected, you'll be diagnosed with gestational diabetes.
Causes
We don't know what causes gestational diabetes, but we know that you are not alone. It happens to millions of women. We do know that the placenta supports the baby as it grows. Sometimes, these hormones also block the action of the mother's insulin to her body and it causes a problem called insulin resistance. This insulin resistance makes it hard for the mother's body to use insulin. And this means that she may need up to three times as much insulin to compensate.
Gestational diabetes can also start when the mother's body is not able to make and use all the insulin it needs for pregnancy. Without enough insulin, glucose can't leave the blood and be changed into energy. When glucose builds up in the blood, it's called hyperglycemia.
Whatever the cause, you can work with your doctor to come up with a plan and maintain a healthy pregnancy through birth. Ask questions. Ask for help. There are many ways to combat gestational diabetes.
Risk factors
Some women have a greater risk of gestational diabetes. Risk factors for gestational diabetes include the following:
- Overweight and obesity.

- A lack of physical activity.
- Previous gestational diabetes or prediabetes.
- Polycystic ovary syndrome.
- Diabetes in an immediate family member.
- Previously delivering a baby weighing more than 9 pounds (4.1 kilograms).
- Race — Asians, Hispanics, and Arab Americans have higher risk and African Americans have lower risk of a GDM diagnosis compared to whites. (4)
Complications
Gestational diabetes that's not carefully managed can lead to high blood sugar levels. High blood sugar can cause problems for you and your baby, including an increased likelihood of needing a C-section to deliver.
Complications that may affect your baby
If you have gestational diabetes, your baby may be at increased risk of:
- Excessive birth weight. Higher than normal blood sugar in mothers can cause their babies to grow too large. Very large babies — those who weigh 9 pounds or more — are more likely to become wedged in the birth canal, have birth injuries or need a C-section birth.

- Early (preterm) birth. High blood sugar may increase women's risk of early labor and delivery before the due date. Or early delivery may be recommended because the baby is large.
- Serious breathing difficulties. Babies born early to mothers with gestational diabetes may experience respiratory distress syndrome — a condition that makes breathing difficult.
- Low blood sugar (hypoglycemia). Sometimes babies of mothers with gestational diabetes have low blood sugar (hypoglycemia) shortly after birth. Severe episodes of hypoglycemia may cause seizures in the baby. Prompt feedings and sometimes an intravenous glucose solution can return the baby's blood sugar level to normal.
- Obesity and type 2 diabetes later in life. Babies of mothers who have gestational diabetes have a higher risk of developing obesity and type 2 diabetes later in life.
- Stillbirth. Untreated gestational diabetes can result in a baby's death either before or shortly after birth.


Complications that may affect you
Gestational diabetes may also increase your risk of:
- High blood pressure and preeclampsia. Gestational diabetes raises your risk of high blood pressure, as well as preeclampsia — a disease of the placental vessels, where their insufficient dilation causes a reduced supply of oxygen and blood to the fetus. These symptoms that can threaten the lives of both mother and baby.
- Having a surgical delivery (C-section). You're more likely to have a C-section if you have gestational diabetes.
- Future diabetes. If you have gestational diabetes, you're more likely to get it again during a future pregnancy. You also have a higher risk of type 2 diabetes as you get older.
Treatment
Treatment for gestational diabetes includes:
- Lifestyle changes

- Blood sugar monitoring
- Medication, if necessary
Managing your blood sugar levels helps keep you and your baby healthy. Close management can also help you avoid complications during pregnancy and delivery.
Lifestyle changes
Your lifestyle — how you eat and move — is an important part of keeping your blood sugar levels in a healthy range. Doctors don't advise losing weight during pregnancy — your body is working hard to support your growing baby. But your doctor can help you set weight gain goals based on your weight before pregnancy.
Healthy diet
A healthy diet focuses on fruits, vegetables and lean protein — foods that are high in nutrition and fiber and low in fat and calories — and limits highly refined carbohydrates, including sweets. A registered dietitian or a diabetes educator can help you create a meal plan based on your current weight, pregnancy weight gain goals, blood sugar level, exercise habits, food preferences and budget.
Medicinal foods that can stabilize glucose levels and stabilize insulin include wild blueberries, spinach, celery stalks, papaya, sprouts, kale, raspberries and asparagus. (5) It is also recommended to consume 0.5 l of celery stalk juice every morning on an empty stomach, followed by a break of at least 15 minutes before the next meal. (6)
Try our Mary Ruth's Prenatal and Postnatal Liquid Multivitamin, which will provide you and your baby with all the nutrients they need. It is made from organic ingredients, without artificial substances and preservatives and especially without sugar.
Stay active
Regular physical activity plays a key role in every woman's wellness plan before, during and after pregnancy. Exercise lowers your blood sugar, and as an added bonus, regular exercise can help relieve some common discomforts of pregnancy, including back pain, muscle cramps, swelling, constipation and trouble sleeping.
With your doctor's OK, aim for 30 minutes of moderate exercise on most days of the week. If you haven't been active for a while, start slowly and build up gradually. Walking, stationary bicycle, yoga and swimming are good choices during pregnancy. Everyday activities such as housework and gardening also count.
Monitor your blood sugar
While you're pregnant, your health care team may ask you to check your blood sugar four or more times a day — first thing in the morning and after meals — to make sure your level stays within a healthy range.
Medication
If diet and exercise aren't enough, you may need insulin injections to lower your blood sugar. Between 10% and 20% of women with gestational diabetes need insulin to reach their blood sugar goals. Some doctors prescribe an oral medication to control blood sugar, while others believe more research is needed to confirm that oral drugs are as safe and as effective as injectable insulin to control gestational diabetes.
Close monitoring of your baby
An important part of your treatment plan is close observation of your baby. Your doctor may check your baby's growth and development with repeated ultrasounds or other tests. If you don't go into labor by your due date — or sometimes earlier — your doctor may induce labor. Delivering after your due date may increase the risk of complications for you and your baby.
Follow-up after delivery
Your doctor will check your blood sugar after delivery and again in six to 12 weeks to make sure that your level has returned to normal. If your tests are normal — and most are — you'll need to have your diabetes risk assessed at least every three years.
If future tests indicate type 2 diabetes or prediabetes, talk with your doctor about increasing your prevention efforts or starting a diabetes management plan.
Prevention
There are no guarantees when it comes to preventing gestational diabetes — but the more healthy habits you can adopt before pregnancy, the better. If you've had gestational diabetes, these healthy choices may also reduce your risk of having it again in future pregnancies or developing type 2 diabetes in the future.
Finally, we summarize the recommendations that apply to every woman:
- Eat healthy foods. Choose foods high in fiber and low in fat and calories. Focus on fruits, vegetables and legumes. Strive for variety to help you achieve your goals without compromising taste or nutrition. Watch portion sizes.
- Keep active. Exercising before and during pregnancy can help protect you from developing gestational diabetes. Aim for 30 minutes of moderate activity on most days of the week. Take a brisk daily walk. Ride your bike. Swim laps. Short bursts of activity — such as parking further away from the store when you run errands or taking a short walk break — all add up too.
- Start pregnancy at a healthy weight. If you're planning to get pregnant, losing extra weight beforehand may help you have a healthier pregnancy. Focus on making lasting changes to your eating habits that can help you through pregnancy, such as eating more vegetables and fruits.
- Don't gain more weight than recommended. Gaining some weight during pregnancy is normal and healthy. But gaining too much weight too quickly can up your risk of gestational diabetes. Ask your doctor what a reasonable amount of weight gain is for you.
*Sometimes the glucose limits set may vary depending on the country in which you are located.
Sources:
(1) https://www.frontiersin.org/articles/10.3389/fendo.2021.691033/full
(2) https://cdn.prod-carehubs.net/n7-mcnn/7bcc9724adf7b803/uploads/2020/07/2020aug21.mp3
(3) https://www.nhs.uk/conditions/gestational-diabetes/
(4) https://pubmed.ncbi.nlm.nih.gov/30668174/
(5) Anthony William: MEDICAL MEDIUM, Hay House, Inc. London, 2015
(6) Anthony William: CELERY JUICE, Hay House, Inc. USA, 2019