Nature's Answer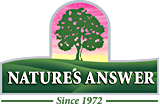 As one of America's largest and oldest manufacturers of nutritional supplements, Nature's Answer® has a proud tradition of providing the highest quality and purity ingredients in every product since 1972. Nature's Answer® is uniquely able to guarantee these standards for all of their liquid herbal extracts as they both manufacture and package all of the holistic remedies that they produce.
Today, Nature's Answer® continues to combine the best of traditional herbal remedies, vitamins and minerals with innovative scientific techniques and phytopharmaceutical manufacturing, to deliver supplements of the finest quality and value for the entire family.
Using Advanced Botanical Fingerprint Technology®, Nature's Answer® guarantees you the purest form of herbal extract in each product. All plants have unique chemical characteristics, markers, and natural patterns that can be used to identify them (just like human fingerprints). Nature's Answer's in house laboratory has accumulated and preserved over 800 plant specimens, creating one of the most comprehensive collections of genetically verified plant specimens found anywhere in the world. Their state of the art laboratory equipment has identified each and every plant's distinctive botanical fingerprint, which they then use as their baseline to analyze the quality and purity of every incoming botanical used to manufacture their products.
Only Nature's Answer® uses a unique Bio-Chelation process, developed by the company's founder and owner to capture all of the plants qualities. It includes "cold extraction." Cold extraction, allows the raw plant materials to be extracted without being exposed to heat. Made by cold extraction using Bio-Chelated®, Advanced Botanical Fingerprint Technology® and Holistically Balanced®, it retains all the energy of the original plant. Using carefully controlled extraction techniques, they capture and preserve the holistic balance of each herb and the value is passed on to you, our customer. From plant to shelf™, you can be assured that Nature's Answer® knows exactly what's in the product in your hand, and they guarantee it is authentic, safe, effective, Holistically balanced®, and of course….Nature's Answer®.
Showing 1 to 16 of 16 (1 Pages)